AWARD FOR CONTRIBUTION TO COVID-19 AWARENESS
---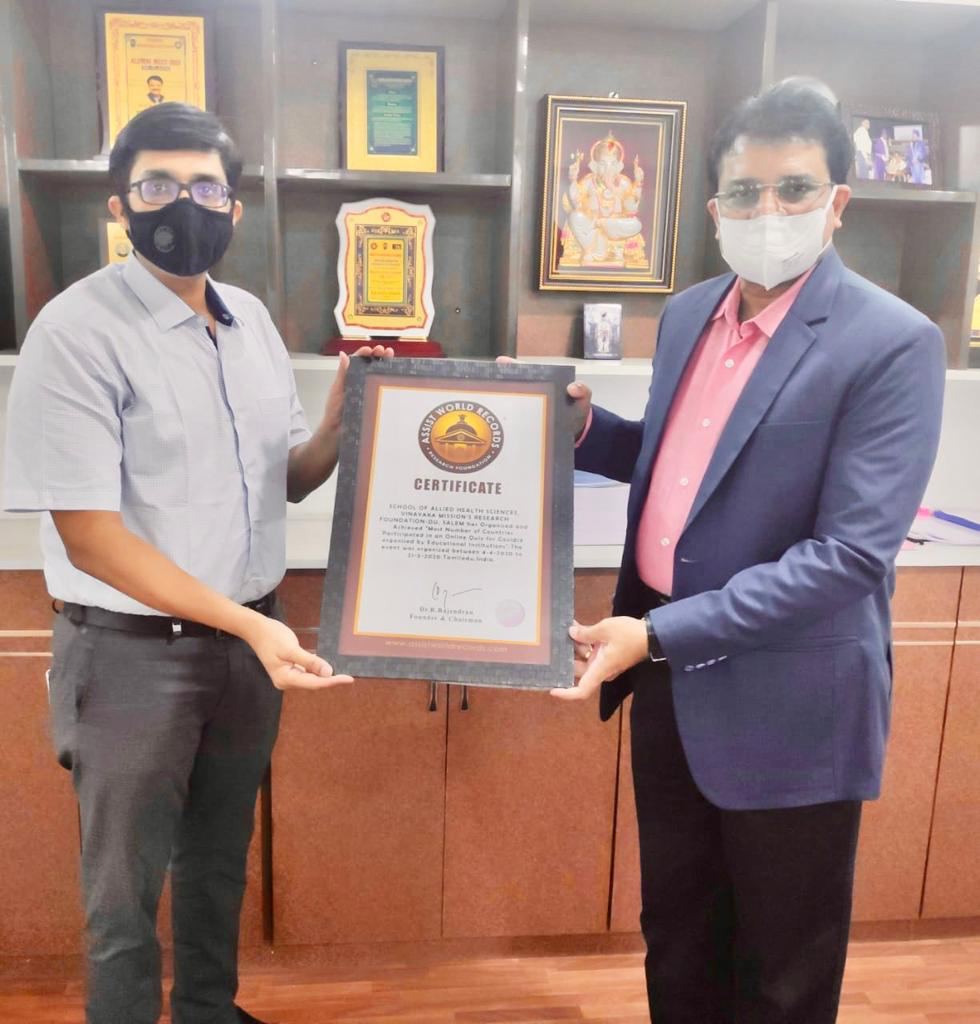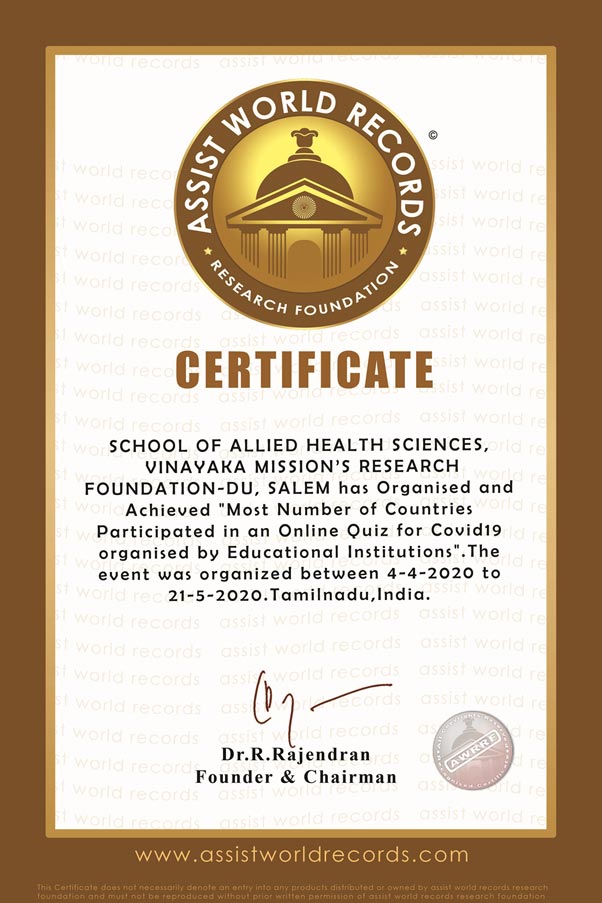 SCHOOL OF ALLIED HEALTH SCIENCES, VINAYAKA MISSION'S RESEARCH FOUNDATION-DU, SALEM has organised and achieved "Most Number of Countries Participated in an Online Quiz for COVID- 19 organised by Educational Institutions" by the ASSIST WORLD RECORDS RESEARCH FOUNDATION (AWRRF) on June 11th 2020. Assist World Records Research Foundation is a not for profit organization that strives to recognize events that are done with social cause as the primary objective.
COVID-19 Quiz Contest was conducted completely online and an e certificate titled "COVID-19 COMBATANT" was issued to participants through the link https://fahs.ac.in/quiz/ with an aim to create awareness and to prevent the spread of the pandemic COVID-19 among the public.
An overwhelming response of 2,70,957 people had participated and participants were from 59 different countries which was held between April 4th to May 21st .
Activities
---
Date
Activity
12-03-2020

Faculty of Allied Health Sciences, VMRF-DU, Salem, Tamilnadu joined with Dr.Sakthivel, Primary Health Center, Salem organized a corona virus awareness programme on 12th March 2020.

View Details
17-03-2020

PREPARATION OF SANITIZER:Students of School of Allied Health Sciences under the guidance of Faculty prepared hand sanitizers and distributed to bring about an awareness about hand hygiene to prevent COVID-19 just at the news of outbreak of COVID-19 in our country on 17/3/2020

View Details

At the start of the outbreak of COVID-19,FAHS took up the responsibility of sharing the TOLL FREE HELPLINE NUMBER given by Ministry of Health and Family Welfare through the college website for the benefit of Faculty,students and Public.

View Details
22-03-020

The Janta curfew on 22/3/2020 implemented by Indian Government was made aware to many people through the Social Media by our college.Pledges were taken by faculty showcasing their responsibility as a Indian citizen and also conveyed the information and need of the hour to STAY HOME to their students.

View Details
04-04-2020

COVID-19 Quiz Contest:With an aim to create awareness among public a quiz and poster competition was conducted completely online and an e certificate of COVID-19 COMBATANT was issued to participants.An overwhelming response of around 2.5L has been received so far.The event started on 4/4/2020.

View Quiz View Contest

As per the UGCs instruction all staff and students had downloaded the AAROGAYA setu app and had also shared with their known contacts as a means of protecting themselves from COVID-19.

View Details
22-04-2020

Allied Health Science,Salem Nss volunteers prepared an awareness video on COVID -19 and this video has been posted in the official government website of UNNAT BHARAT ABHINGYAN on 22/4/2020

View Details

To emphasize on the importance of social distancing and staying at Home but yet not to compromise on learning FAHS faculty has been involved in online teaching through various modes.A video was done by Dean,Faculty and students of FAHS to educate the parents on the same and was shared via social media.

View Details

A Ghana song in Tamil was written and sung by our student on Protection from COVID-19 and shared through various social media.It was well appreciated by many people who saw it.

View Details

Everyday posters containing information regarding Protection against COVID-19 was designed and shared in social media thereby creating awareness even to lay man.

View Details

Students stay at home but united in thought and action created posters to create awareness on COVID-19 and shared through various social media.

View Details
Videos
---
Photos
---